online SINGA Business accelerator
The first online business accelerator in Switzerland
for people with refugee and migration backgrounds, which provides access to an investor network. SINGA Accelerator's services are aimed at people who have already founded a company and need further support to drive it forward or scale it.
Join the SINGA online Accelerator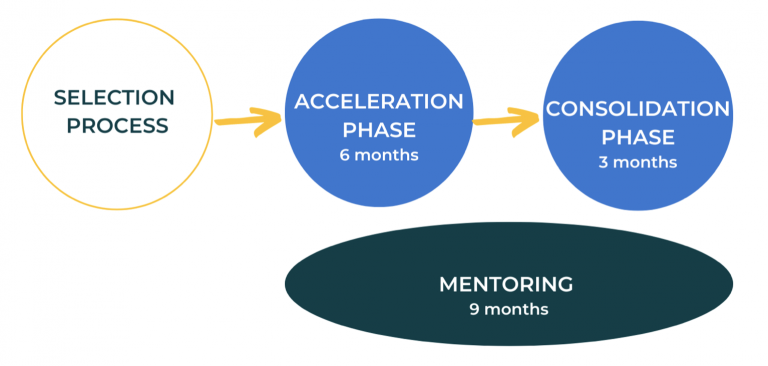 Do you want to advance or scale your own business in Switzerland ?
Follow our selection process to register!
1 of 4
Welcome to the Accelerator !
Phase 1 will lead you to analyse your needs and implement your ideas to grow and/or scale your business.
2 of 4
Phase 2 will lead you to sustainable establish the elements implemented to advance and/or scale your business.
3 of 4
Find a match with a mentor !
Our expert offer individual support for your specific needs.
4 of 4
SELECTION PROCESS
ACCELERATION PHASE
CONSOLIDATION PHASE
MENTORING
SELECTION PROCESS
Have you already founded your own company in Switzerland and want to advance or scale it? If you meet the application criteria, you can apply via the online form. After a first selection, there is the possibility that you will be invited to a pitch event, where you will present online your business and your challenges in front of a jury. Afterwards, the jury will decide whether you can participate in the Accelerator.
ACCELERATION PHASE
CONSOLIDATION PHASE
MENTORING
Check our section Who can apply. If you meet the criteria, you can apply by using the respective online forms.
You will be invited to an online pitch event where you will present your business and your challenges in front of a jury.
After that, the jury and the SINGA team will decide if you qualify to participate in the online Accelerator and you will be informed accordingly.
People from non-EU/EFTA/UK countries or with a project idea to support people with a refugee background.
CH-/EU-/EFTA-/UK-citizens can participate if they join forces with the target group.
At least a B2 level in English, German or French is required.
If you do not speak English or lower than on a B1 level, we will organize translation in German or French for you.
Persons with an F, B, C or S permit can participate.
CH-/EU-/EFTA-/UK-citizens can participate if they join the target group.
You have a business registered in Switzerland that has been active for at least one year.
Your turnover is between CHF 15,000 and 25,000 per year (absolute minimum CHF 5,000) and you have at least one paying customer/client.
Your business idea supports at least one of the sustainable development goals (SDGs). This does not necessarily have to be realized in the business idea itself. You can also fulfill this condition in your strategies and/or how you run your business.
At SINGA, the cost of the online Accelerator depends on your situation:
Administration fees: CHF 100.-
+ CHF 50.-/month for low income or CHF 100.-/month for normal income.
Please contact the SINGA team if the fees would be a barrier for you! We always find solutions!
In the six-month acceleration phase, you will implement the elements that will drive or grow your business.
As a first step, you will analyze your challenges and needs with SINGA in order to organize the appropriate support for the implementation of your plans.
After two kick-off days, where you will get to know the other participants, the support starts. This phase consists of regular 1:1 consultations with experts as well as a monthly workshop and check-in with the program manager at SINGA.
At the end of the Acceleration Phase, you will have the chance to pitch your needs and uses of financial resources to an investor network in order to receive (seed) funding.
SINGA offers support through 1:1 consultations and workshops in the following areas and topics:
Strategies in communication and social media
(Online) Marketing / SEO
Branding / UX design
Building or improving the website
B2C/B2B, how to address customers
Pitching (in front of investors)
Media training/storytelling
Impact measurement
Financing / Business Model
Raising capital
Obtaining investments
Accounting and taxes
Business plan required by banks to obtain a loan
Fundraising from foundations
Find the right co-founder(s) or team members
Soft skills and leadership qualities
Project, self and team management
Risk management
Environmentally friendly business
Contracts and agreements
Project protection / patents
(Social) insurances
After the implementation, this three-month phase is about establishing the implemented elements in your business in the long term.
After the summer break, you will evaluate with SINGA what additional support is needed to establish the realized components in your business.
Over the remaining three months you will still have the opportunity to benefit from 1:1 consultations to support the sustainable establishment of the new elements in your business. There will be no more workshops during this phase.
These documents must be uploaded during the online application. Therefore, we recommend that you fill out the documents before you start the online application form. You can upload your own documents or use these templates.
Over a period of at least nine months (parallel to the acceleration and consolidation phase), you will be accompanied by an expert who will offer you individual support at eye level and share his/her professional network.
SINGA will connect you with a mentor who has relevant experience and knowledge in your industry, will assist you on an equal footing, and will share their network with you.
During the first meeting, you will define goals, results and the way of working together in an agreement with your mentor.
For at least nine months, you will meet regularly with your mentor, who will provide you with strategic support, suggestions and a professional network.